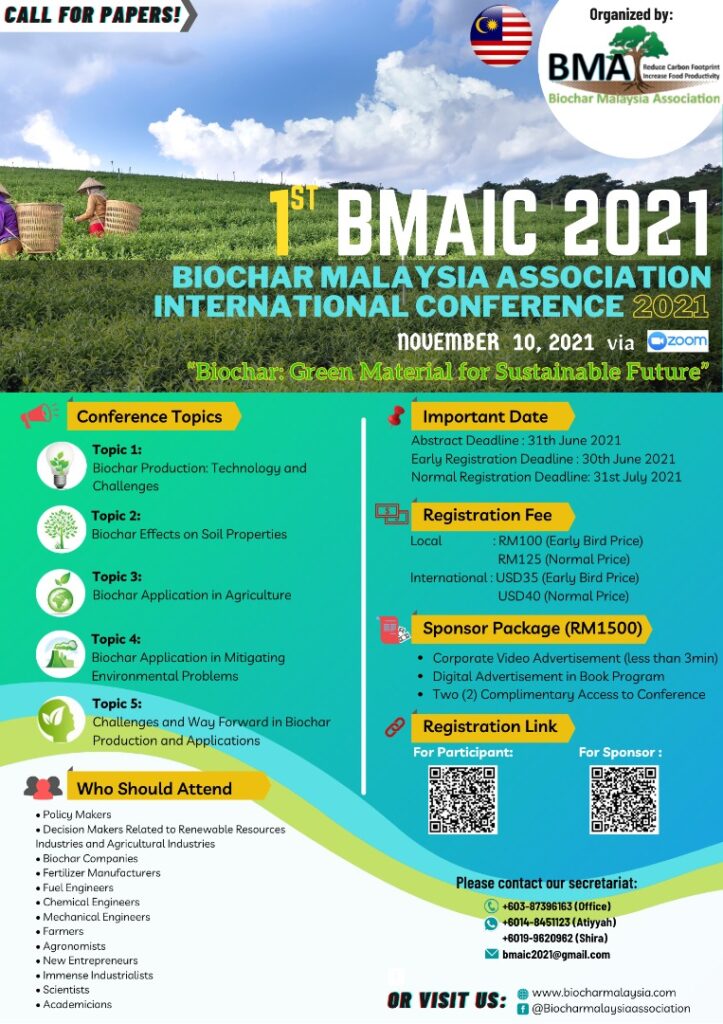 BIOCHAR MALAYSIA ASSOCIATION (BMA) is pleased to present
📣📣A Virtual Conference:
BIOCHAR MALAYSIA ASSOCIATION INTERNATIONAL CONFERENCE 2021 "Biochar: Green Material for Sustainable Future"
📌Date: 10th November 2021
💻Platform: ZOOM
🌐 Invited Speakers :
Dr. Prakash Nagabovanalli – Department of Soil Science & Agricultural Chemistry, University of Agricultural Sciences, Bangalore
Dr. Suzanne Allaire – CEO of GECA Environnement
Prof. Yong Sik Ok – Division of Environmental Science and Ecological Engineering,
Korea University
Prof. Dr. Azni Idris – Department of Chemical and Environmental Engineering,
University Putra Malaysia (UPM)
Research on biochar production and applications in various industries worldwide have been growing steadily in recent years. It is envisaged that it is about time that scientists, industrial players, farmers and policy makers should come together on a platform to discuss issues and challenges in biochar industry to promote the biochar application in agriculture and environmental management.
Therefore, it is with great pleasure that we invite you to participate either as a presenter or a participant in our virtual conference with the theme "Biochar: Green Material for Sustainable Future".
BMAIC 2021 will connect the participants to build theoretical and practical knowledge about biochar issues and sustainable agricultural approaches, expose the participants to new technological innovations on biochar production, develop innovative models for mitigating environmental problems, and strengthen the international network of biochar industries and academia across the globe 🌐.
To register:
👥Participant:
https://docs.google.com/forms/d/e/1FAIpQLSdAWsGFo4CWyWOII2TGRZ63WEJMoleG6AwLcM99KkHeB2iQ4w/viewform?usp=sf_link
🏭Sponsor: https://docs.google.com/forms/d/e/1FAIpQLScwALCyc508TJeQPi1X_K9Ex7ugeqJ_Bl0M2Vf0jlAVAlImCg/viewform?usp=sf_link
Or scan QR code in the brochure.
Please contact the conference secretariat for more information:
☎ +603-87396163 (Office)
📱+6014-8451123 (Atiyyah)
📱+6019-9620962 (Shira)
📧Email: bmaic2021@gmail.com
We look forward for your participation 🙂
Thank you !
BMAIC 2021 SECRETARIAT