The Effect of Paddy Husk Biochar Towards Zinc Availability in Contaminated Soil
Nur Firdaus, Abdul R., Nurul Wahida, H., Nurfatin Soleha, Abd. R.
Properties of Biochar Derived from Organic Deposit
Rozita Ahmad, Chua Kai Ying, Siti Salwana Hashim, Tumirah Khadiran, Puad Elham, Wan Rasidah Kadir, Mohamad Fakhri Ishak, Abdul Razak Sahril, and Tariq Mubaraq Husin
Influence of Plant Growth-Promoting Bacteria Encapsulation Using Sodium Alginate and Biochar in Chili Plant Growth
Siti Anis Syaziana Nordin, Nur Maizatul Idayu Othman, Irsyad Sulaimi Ramly, Norazlina Abu Sari
Comparative Assessment of Activated Carbon from Oil Palm Kernel Shell versus Coconut Shell for POME Purification
Nahrul Hayawin, Z., Ropandi, M., Nor Faizah, J., Noorshamsiana, A.W., Astima, A.A.
Preliminary Findings on Rice Husk Biochar and Moringa oleifera Seeds as Potential Biosorbents
V. Jeyanny, K. Atirah, A. Rozita, I. Mohamad Fakhri, L. Muhammad Asri, M.I. Noor Shahirah, and J. Mohamad Izwan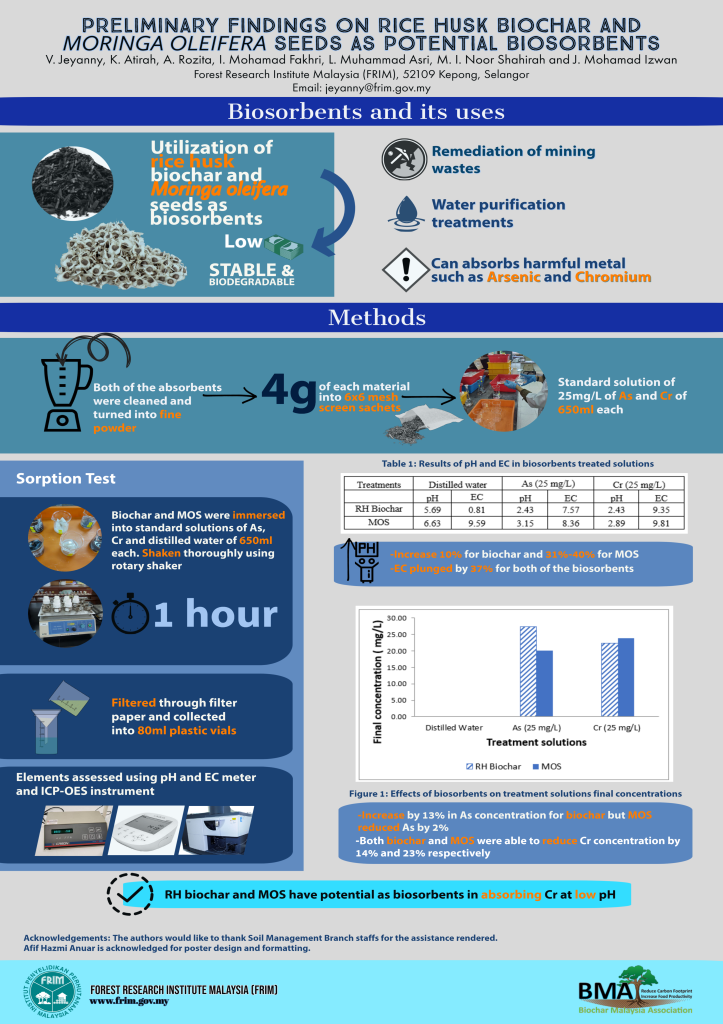 Effects of Rice Husk & Wood Biochar on Maize Plant Physiological Parameters Grown on Different Types of Soil
Daljit S.K., Prakash N.B., Keeren S.R., Sandhya K., and Arifin A.